At Zandonella Catering, LLC we strive to provide the most memorable and enjoyable catering experience possible to each of our customers.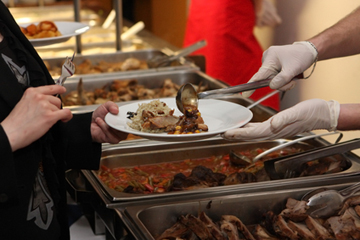 Beginning on the day you hire us to cater your event, you will receive end-to-end support from our dedicated professionals, ready to work with you throughout the entire planning process up until the day of your event.
We'll work with you to make your event unforgettable by tailoring your menu to meet your unique preferences and needs.
As one of the most trusted local catering companies in the Bay area with over 30 years of experience in the food business, you can count on quality. All of our sauces are made from scratch, and our chefs prepare every dish using fresh products and the finest meats available.
We also have a variety of resources available to you to make the days leading up to your event and the day of your event as stress-free and enjoyable as possible.
We can handle all of your tableware needs, provide expert wait staff for catering tables, and even give you referrals to other services you may need, such as floral shops, photographers, music, and more.
The Process
We believe communication is key to a successful catering event. That's why our catering process keeps us involved with you from start to finish, including personal meetings, telephone calls, and email messages. Our fool-proof process includes making a plan for furniture and supplies including dinnerware, linens, chairs, tables, and more along with:
An initial meeting
A visit to your venue
Customizing your menu
Delivery and set-up
Take-down and clean-up
With all the attention you'll receive from us during this planning process, we'll be able to build a rapport so you can feel comfortable relying on us on the day of the event.
If you want to learn more about our catering and event services, contact us. We have the expertise and experience to help you throughout your entire planning process.