Zandonella's number one priority is making your event special. We do that by creating a menu especially for you.
When you bring our team onboard, we take the time to discuss your event and personal preferences so we can work with you to develop the perfect menu.
Catering Menus
At Zandonella Catering, LLC you'll enjoy the ultimate flexibility to choose exactly what you want to serve at your event. We don't restrict our customers to catering menus with pre-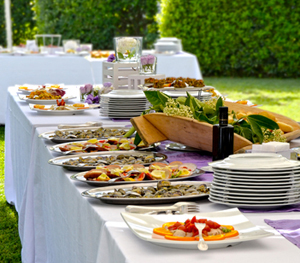 determined selections. Instead, we tailor each of our catering menus to be as unique as every event we cater, whether you're looking for:
Your Catering Menu
We look forward to meeting with you to develop a customized menu around your particular budget. You may have certain dishes in mind which we can prepare for you, or you can select from our mouth-watering specialties:
Pasta dishes including Alfredo, pesto, Marinara, Bolognese, and more
Meat dishes including prime rib, tri-tip, ribs, New York steak, and more
Chicken dishes including Champagne, Teriyaki, Marsala, and more
If you're looking to break away from traditional catering menus, contact us.
With our custom menu services, you can enjoy a truly creative catering experience.