Whether you're looking for outdoor catering, funeral catering, party catering, or catering for an outdoor event, Zandonella Catering, LLC can meet all of your needs. Share any idea you can imagine for an event and we will work with you to make it happen!
Funeral Catering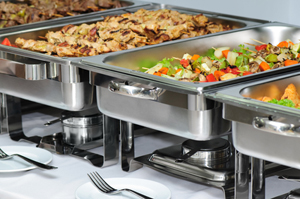 Planning a funeral can be difficult, especially if you're in mourning. Time constraints to find a food catering company and plan a menu can make arrangements for funeral catering more demanding than for other events.
Zandonella Catering, LLC can provide you with the quick turnaround you require without forcing you to compromise quality of food or service.
Italian Food Catering
If you're looking for Italian food catering in particular, you're in luck. Zandonella Catering, LLC is an Italian food based company. Although our premium chefs now specialize in several other types of cuisine, our foundation as a 30-year-old family-owned company revolves around the zesty aroma and tempting tastes of fresh Italian food.
Party Catering
You name it and we've probably catered an event for it. If you're planning any type of celebration, regardless of the theme, venue, budget, and any other must-have detail, we can tailor our food catering and services to make it a memorable experience.
"Their crew is personable, professional & organized folks who love to cook for those interested and appreciative of good cookin' for a reasonable price…" Thomas A., Concord
Crab Feeds
If you're coordinating a crab feed, Zandonella can make it unforgettable.
We provide delicious crab feeds for large and small groups.
In addition, we special in non-profit fundraising events.
You'll have a blast and we'll be there to do the rest!
Tri-Tip Feeds
With our specialty in BBQ, our chefs and catering team know exactly how to prepare the most delicious food for your tri-tip feed, the right amount for any size group, and how to set up the perfect environment for your event.
If you need catering for anything at all, contact us. We can customize a catering experience to suit any event you're planning.